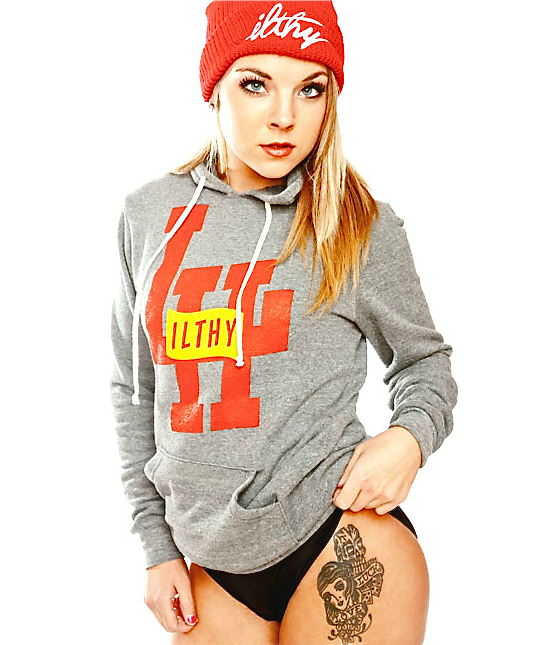 Photo courtesy of iLTHY*
Standing sexy at 5' 7" from Cleveland, OH, with piercing blue eyes and a cassie-esque hairstyle, meet
Sammy McDougal
. New to this modeling scene, at 20 years old, she is already jumping right in it with some established Streetwear representatives.
We reached out to the young bombshell, and found out this, below...
Troy Paraiso
:
Well hello, hello! What's your name, where are you from, and tell me what makes you smile?
Sammy McDougal: Hola! My name is Sammy McDougal, and I am from Cleveland, OH. If you want to see me smile, just turn on the radio. Simple as that, son!
Troy Paraiso
:
I saw your recent shoot with iLTHY, as part of their Fall 2012 Lookbook. How was it working with Glen, Kumar and the team?
Sammy McDougal: Glen & the iLTHY team are so inspiring! I love hearing about all the stuff they've accomplished. They have some pretty awesome stories. When it came time for the shoot it was my first time meeting most of them. I had no clue what to expect at first, so I was like, "uhm...hi everyone..." All shy and what not. But 5 minutes in you can instantly feel that family vibe. They're real deal, and I wouldn't doubt anything they do.
Troy Paraiso
:
Yeah, Glen is family. You're new to the Modeling scene, but caught a few eyes already. What are your aspirations?
Sammy McDougal: Basically I would like to create a name for myself. When people know who you are, it's like you gain a sort of power. I want that power so that I can do great things with it. My friend Kumar (one who introduced me to iLTHY) jokes with me about that. He'll be like, "okay spiderman!" Plus I have my mom and sister behind my back. Whatever I do, I'm going to be successful.
Troy Paraiso
:
Power, eh? Interesting. I read online that you're a Hip-Hop dancer - tell me about that and how good its done your body?
Sammy McDougal: Ahhh dancing, the greatest thing in this whole wide world! Think about it, before people could even communicate properly they were dancing. It brings people together. I danced for many years, but took a break from actual classes in order to spend more time on my education. It's something that makes you feel good about yourself, both physically and mentally. Fingers are crossed to start back up again next summer!
Troy Paraiso
:
Where can we look forward to seeing you next?
Sammy McDougal: Wherever this road takes me, that's where I'll be next, because you can't plan everything. If that was the case, I probably wouldn't be doing this interview right now. Close your eyes and go for it! Maybe y'all see me in NYC sometime soon...
For more info, follow Sammy McDougal on Twitter:
@SammyMcDougal