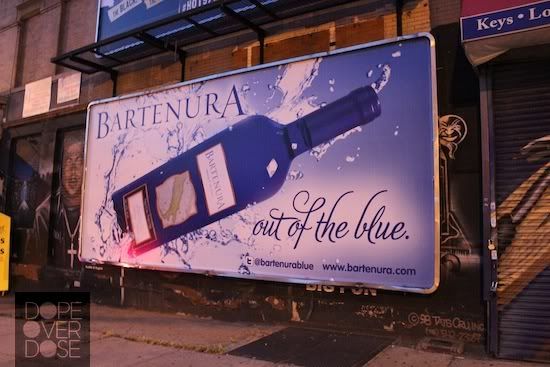 Photo by Troy Paraiso*
While in the Bronx a few weeks back attending a Circa '95 event, I walked a few blocks to 167th street & Southern Blvd. to take a photo of one of the BIG PUN murals, but I saw this instead. A billboard for some cheap wine, to which is not only covering his mural, but directly across the street from a basketball court.
The ad/billboard space is owned by Lamar Advertising of NY & NJ, and Peter Costanza, 40, is the vice president and general manager of the company. Apparently they've been selling space there since last year, and the community has voiced their frustration for the disrespect.
Anyway, I basically write this to say, Lamar Advertising has no taste, and I hope any and all of their clients which occupy this space, including Bartenura, fail in poor marketing efforts. I even disliked having to give them the attention they don't deserve, but hey this is fact, and their bitchassness will forever be noted.
RIP BIG PUN