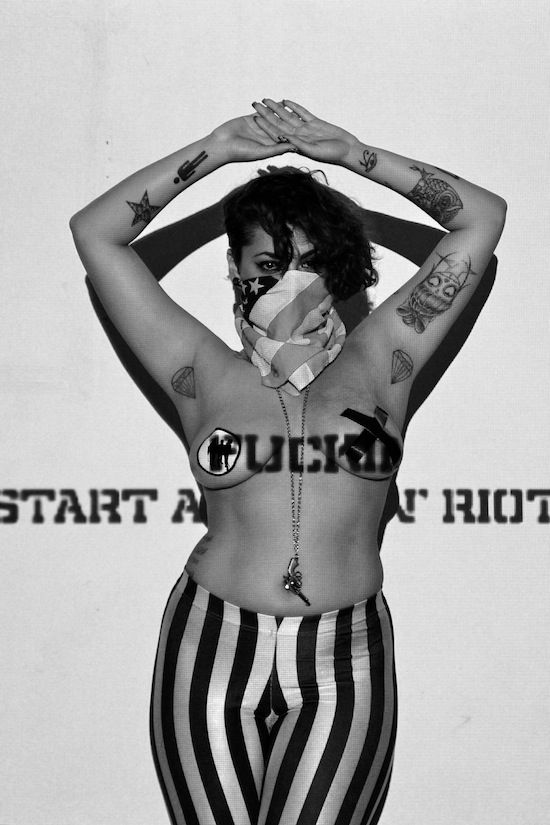 Photo by Fausti Rosario + Freddy Mejia*
When I see
Marsy Monroe
running through my mind, a few things come to it: She has a great rack, her tattoo's are dope as fuck, and I feel like she has a story to tell. It turns out that MM' is here with us to touch on a few things the world should know. And no, I won't be asking for her cup size, you creeps!
Troy Paraiso: Welcome to DOPE OVERDOSE, MM'. You're a 20-something year old Puerto Rican/Danish/English tattoo model, from New York City. As bad as you are, your look is "very ambiguous," as you would say. How do you think that's helped, or hurt your plight as a model?
MM': I'm a certified mutt to the max, and its difficult for people to figure out my ethnicity. I've heard everything from biracial to Asian. I don't particularly fit into a specific category because of my background, and its helped when I come in contact with photographers who are willing to push the envelope and be anything & everything but the norm. With that said, its often frustrating getting work that is specified, i.e Latina, or Caucasian because I am so different.
Troy Paraiso: I see you're about that Medical Life in your photos, but what I'd like to know is if you're a Sativa, Indica or Hybrid lover, and what are a few of your favorite strains?
MM': Perfect timing with this one, totally a marijuana advocate and support the case pretty much everyday. Growing up weed was not a secret in my family, my mom was pretty open about it. I waited until my adulthood to indulge in the lifestyle, and its been served in a respectful manner. I do not discriminate when it comes to the Indica vs. Sativa argument, but we all have our preferences. Most days I'll smoke some Kush, and go ape shit playing COD: Black Ops 2, other nights I'll enjoy bong rips of Purple Haze, and just relax. I'm also a huge fan of edibles made especially for 4/20. (-_-) Ms. Stoner Face.
Troy Paraiso: You have upwards of 20+ tattoos, and they're all fucking dope! But the diamonds on your underarms, what are those about, what inspired them, and why there?
MM': From childhood I was always posing in photos screwing around, never realizing my true passion until I reached my adolescence. When I really became active with my modeling, taking classes for it in downtown Manhattan, I came to realize I may have a signature pose which was also one of my class assignments. It stuck. Since I'm always exposing my armpits, I came up with the idea to jazz it up a bit, what does a girl love more than DIAMONDS? My artist was excited to do it too, so it was done.
Troy Paraiso: Riots & Roses without a doubt is one of my favorite Streetwear brands, on the streets. Their new collection 'No Prisoners, No Hostages, No Witnesses' releases this Friday, and you're featured on a t-shirt. Explain how this came to life, and what does you topless with an American flag tied 'round on your face represent?
MM': I agree 100%, Riots & Roses is fuckin' dope without a doubt. I am extremely flattered for having the opportunity to work with Dee, Red, Freddy & Fausti. They are an amazing team and really made me feel like family, I'd ride for them til' the end for sure. I was contacted by Rome Shaw about the opportunity to work with R&R, and I was so down, their team accepted me and I was at the shoot the next day. I'm a huge believer in fate. For me personally, the photo represents being a rebel of the free world and being able to express that, is empowering.
Troy Paraiso: If you were locked in a room with Bad Boy Records recording artist Machine Gun Kelly, alone, would you twerk for him? If so, why him?
MM': OH EM GEE. I would do more than just twerk (PAUSE). No for real though, my deal with Kells is more than just an attraction, he's really an inspiration for all the kids who had it pretty tough, and expressing that for the world to know isn't easy. The world isn't fairy tales and pony tails for some people. He says girls never wanted him in high school. Sheesh I would've bagged, lol. To "Wild Boy" twerk with a shot of punk rock...lmfao.
Troy Paraiso: You seem to bond with the legendary Marilyn Monroe, and a lot of people do, but what makes her life influential on yours?
MM': We are all damaged in our own way, she was also. Some of us are just poor unfortunate souls. She's been the ultimate idol of mine for quite some time now. Such a compassionate soul who just really wanted to be accepted for who she was, not what she looked like. Ugh, Marilyn is such a sore subject for me. It really breaks my heart.
Troy Paraiso: Lastly, besides being a model, you're also an artist, as I've seen some of your drawings. I actually seen a photo of you in the middle of painting. So my question is, what does painting (drawing) bring to your life life, and what do you paint best?
MM': I absolutely love to get my hands into some paint, painting is a great way for me to express myself productively. My favorite thing to do lately is to sit at the window (like a creep) look at trees, and paint my interpretation of them. I like to create a variety of different things, from skulls to flowers, to things that are pretty dark and eerie.
Troy Paraiso: Thank you for your time, thank you for your energy. Your boobs are a-fuckin'-mazing by the way, lol! Seriously though, with all respect due, keep doin' your thing, MM'.
MM': The pleasure's all mine, fair well earthlings...Marsy Monroe.
Follow on Twitter:
@PistolMars
|
@RiotsandRoses
|
@TroyParaiso
For more on Marsy Mars and her endeavors, visit:
Marsy Monroe's Tumblr
*Editor's note: Thanks to HDee, the photo used above is exclusive to Dope Overdose.