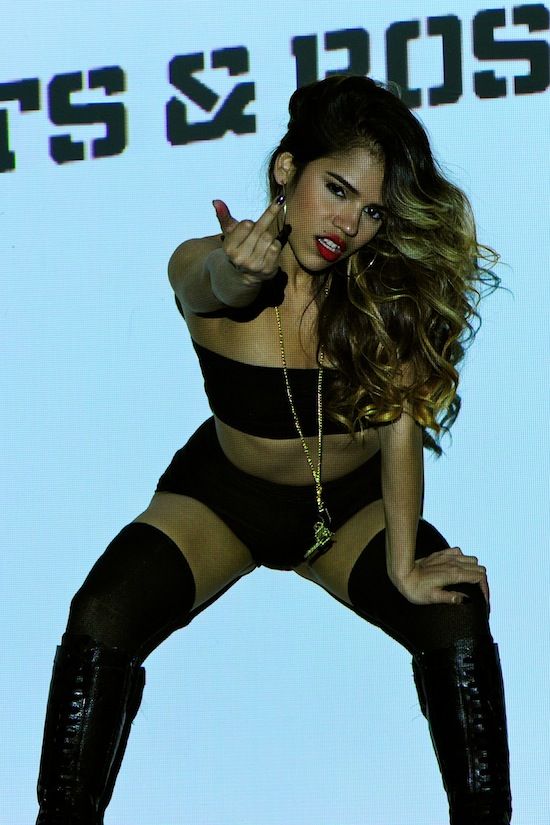 Photo by Fausti Rosario + Freddy Mejia*
Her name is
Stephania Arenas
, to some she's also sought out for as
"StephieSoSexy"
the model. She's a Colombian, native New Yorker from Queens, who writes, does web design, and models. Now all of that is cool, but lets get to know her, the part that makes her so sexy, and I'll try to throw in some
Fashion
questions in light of Fashion Week.
Troy Paraiso: Welcome to DOPE OVERDOSE, SSS'. Your love at heart is writing, so if I asked you to free-flow write what comes to mind when you think of Valentine's Day, what would your pen lay down after moving?
SSS': Thanks for having me on Dope Overdose! I'm beyond flattered! You hit it right on the money when speaking about my first love. And speaking about love, love is in the air! Valentine's day is just around the corner, flaunting it's overpowering scent. A day where old flames rekindle their romance, puppy love bubbles with excitement, and lasting lovers light their fire. A day for friends, a night for lovers. ♥
Troy Paraiso: Though you don't do much fashion modeling, you do support dope Streetwear brands like, Riots & Roses. What is it about Streetwear that attracts you?
SSS': Their's a lot of character behind Streetwear. Streetwear always has a story to tell along with a bond to the average joe, which happens to dress fresh to death. I love the passion most Streetwear designers pour into their work, while still honoring simplicity. Sometimes, you can even see the beautiful struggle behind a Streetwear brand. Starting from the bottom and climbing to the top. A journey most of us can relate to.
Troy Paraiso: Tell me, what is it that makes Stephania Arenas, so sexy? Is it your smile, is it your eyes, or is it your seducing manner in your photos?
SSS': All of the above, lol! To be honest, Stephania Arenas isn't the sexy one, it's Stephie that's the one being SoSexy. StephieSoSexy loves to embrace her sexiest feature of all, her confidence. Confidence is the ultimate ingredient in sex appeal. SSS' also believes that self love is what truly brings all the boys to the yard, ;). There's no other belief that SSS' pushes harder.
Troy Paraiso: Speaking of your features, in the new Riots & Roses collection 'No Prisoners, No Witnesses' you're featured on a t-shirt, but barely recognizable and holding a pistol. Explain what inspired the photo that created that shirt?
SSS': I love that shirt! Not just because I'm in it, lol, but because it's so damn powerful, and yet so sexy. The picture is somewhat of a metaphor, kind of saying "What I'm about to do will make such an impact, that you can't even see me anymore. You can only focus on whats about to come your way." Love it! Super badass.
Troy Paraiso: I won't go as far as to ask you about your personal life, but what does SSS' look for in the soul of man when looking in his windows?
SSS': I love me a manly man. There's very few of those nowadays. A rugged man that knows how to use his hands on power tools, and a woman. A man that's not scared to love, nor fight for what's right. A man who says no to super tight jeans, and yes to a burly beard. Women want a man that'll be proud to have her, and makes her the envy of all women, not the joke.
Troy Paraiso: When we spoke you mentioned being in an airport, where were you traveling to, and tell me 3 things you must travel with that we may not expect?
SSS: I was actually on my way to San Antonio, Texas. First time there! I got flown in by a company who's interested in working with both my blog and SSS' movement. That stuff is under wraps though, lol, but my top must haves when traveling: an iPad, a map, and an open mind!
Troy Paraiso: This next and last question is dedicated to young inspiring women reading this, what could you tell them about building confidence, and loving themselves?
SSS': Love yourself! Love the good about yourself, as well as the bad! Embrace every bit of your body as well as your mind. The more you embrace and take care of your features, the more beautiful you naturally become. It's all about confidence. Confidence makes you glow!
Troy Paraiso: Thank you for your time, energy, and smile. If you don't mind, could you shout out my boy Erick from Miami? He's the friend who called me from Florida, and asked me if I knew you, lol, now I do. Keep doin' your thing, Stephania!
SSS': It's an absolute pleasure! Thank you tons for taking the time to get to know me. I appreciate it infinitely! Oh and S/o to Erick! From Miami! That's my hometown, I like him already! oxo
Follow on Twitter:
@StephieSoSexy
|
@RiotsandRoses
|
@TroyParaiso
For more on Stephania Arenas and her endeavors, visit:
www.StephieSoSexy.com
*Editor's note: Thanks to HDee, the photo used above is exclusive to Dope Overdose.