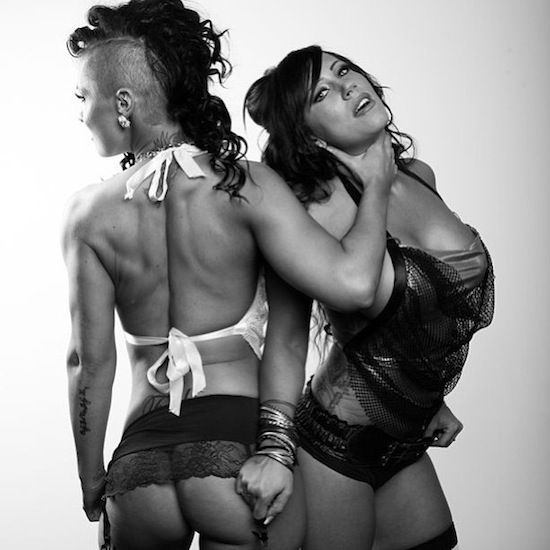 Shot by Emmet Adriaans* (unedited photo)
Usually I'll post a
DOPE MODEL
, but how can I not let this pop off your screen?! See below for a Q&A with sexy model
Erin DeGraw
, from Edmonton, Alberta in Canada.
Troy Paraiso
:
Happy New Sexy Year, Erin! I've been meaning to reach out to you, as I've been admiring your work from afar. Can you tell me some more 'bout yourself?
Erin DeGraw: Hey Troy, thanks. 2013 has definitely gotten off to an amazing start! Im a 25 year old promotional and aspiring fitness model, from Canada. I'm currently studying to be a personal trainer.
Troy Paraiso
:
The photo we chose to feature, it's pretty intense, I mean your hand is around her neck, and hers around your underwear. Explain this photo, in your own words?
Erin DeGraw: For me this photo shows that a women can be strong, in charge, independent, and may even have half her head shaved, lol. But she can still be feminine and vulnerable. True strength comes from being vulnerable, and I think we did an okay job of reppin' that.
Troy Paraiso
:
The model in the photo, who is she?
Erin DeGraw: Her name is Nakita Zuger.
Troy Paraiso
:
The photographer who shot this, who is he, and what else can we enjoy from more of this shoot?
Erin DeGraw: The photographer is Emmet Adriaans, and he's one of my favorites, because he's skillful. This shoot was hot, so stay tuned for more photos from the "Hard Kartel" Queens shoot featuring me & Nakita.
Troy Paraiso
:
Lastly, they can hardly see it, but you have the words "Faith" tattooed on your lower back, that is so sexy, but lord knows your bad for it. Haha! Tell me what that represents for you, and why there of all place on you body?
Erin DeGraw: Haha! You got me, Troy, I got a little bad girl in me, but I am a girl of faith, and my relationship with God is most important. I got it on my back 'cause no matter what hard times I've gone through, my faith has always got me through, and I know God always has my back.
You can see more of Erin DeGraw by peppin' her
Model Mayhem
account.
Add on Facebook:
Erin DeGraw